Juliet's, September dinner venue is TODAY, Thursday, Sept 21st @ 5:30 PM
Milano's Italian Restaurant, 6916 Broad St., Columbus, OH. 43213 (Kroger Plaza) 
HAPPENING TODAY, THURSDAY, 21 SEPTEMBER @ 7:00PM:  
The Rev. Dan Carlson and the Rev. Jason Oden will lead an information session on Zoom at 7 p.m. If you are unable to attend, email Oden to receive a link to the recording. Use this link to join the Zoom meeting.
Clergy and lay leaders in the Diocese of Southern Ohio are invited to join a cohort traveling to the Holy Land from April 2 to 12. The group, which will be led by the Rev. Jason Oden, canon for formation; the Rev. Dan Carlson of Church of the Advent; and Rabbi Brad Hirschfield of the Center for Learning and Leadership, will meet at least once a month on Zoom starting in October.
A limited number of scholarships are available. For more information about the trip, contact Canon Jason Oden.
THIS SUNDAY IN WORSHIP:
The parable we hear this coming Sunday might strike church-goers as troubling: what, shouldn't we get paid more if we work longer hours?! The last shall be first? Come to worship, to meditate on the good news found in this story and to receive the meal of God's mercy. 
The Seventeenth Sunday After Pentecost
 September 24, 2023
Holy Eucharist, Rite II @ 10:00am
Service Bulletin: 
https://docs.google.com/document/d/1REy0N_YkiuDQn0X_Ph0_vn9YMG-n-7MV/edit?usp=sharing&ouid=116940911619001104065&rtpof=true&sd=true
Follow us live on Facebook @:https://www.facebook.com/standrewspickerington
Or on Youtube @: https://www.youtube.com/@st.andrewsepiscopalchurch-5752/streams 
St. Andrew's Dream Project
Committee Notes: Sally, Toyin, and Jana met on 6/16/2023 to discuss next steps with the St. Andrew's Dream project. The vestry did this focus group during their retreat this year.
Why: St. Andrew's needs to focus its mission and vision for the congregation around a strategic plan for the next 3-5 years. 
What: The St. Andrew's dream project is an intentional outreach to the congregation to garner input into the Mission and Vision for St. Andrew's. 
How: The Vestry members and additional volunteers will host planned focus groups with members of the congregation in the months of August and September. During these focus group the following questions will be posed to the group:
·         What dreams do we have for St. Andrew's Episcopal Church? 
·         What is your understanding of what God is calling us to do? 
·         The sky's the limit!
Dates are being set for these groups, you may be contacted by email or phone to participate. If you cannot participate on the date/time your group has set, we encourage you to go to any of the groups.
Groups are set for this Sunday, Sept 24th, after church at 11:45 AM.
Please join any of them if you want.
We look forward to hearing what your dreams for St. Andrew's will be!
---
Services this Week     Monday Morning Prayer at 10 AM in the Chapel. 
---
BEGINNING WEDNESDAY SEPTEMBER 27, 2023
A 6 WEEK BIBLE STUDY
6:30PM – 7:45PM
FELLOWSHIP HALL
FACILITATOR: Pastor Sally Cook

It is the first and the shortest of the four Gospels, as most experts believe.This gospel tells the story of Jesus ministry, death, and resurrection with an immediacy and pace unlike the other Gospels.  If you like getting right to the point – then this gospel and this class is for you!
Come and see that the Gospel of Mark is more than just the good news about Jesus.  It reveals, sometimes in surprising and scandalous ways, how Jesus is God's good news to us. 
Topics include: Who was Mark?, To whom was Mark writing?, Who is Jesus?, What is the Messianic secret?,  What is Discipleship?,  When is the ending beginning?, Can the end just be a new beginning? 
---
The Rt. Rev. Wayne Smith, Provisional Bishop for Southern Ohio will be here NEXT Sunday, Oct. 1st.  Bishop Smith will preach, preside at Eucharist, and confirm and receive members into our community of faith.  Following worship there will be a special reception. The Hospitality Committee would appreciate your help with providing food.  A sign-up sheet is in the narthex.  Please put this date on your calendar now! 
---

Sunday's Cool ! 
Next Date will be Sunday, October 1.
New 'Whirl" curriculum begins. 
---

Michael Gonzales
Houston Methodist Hospital-Walter Tower
Floor 10 Room 24
6551  Bertner Ave.
Houston, TX 77030
As most of you know Michael is in Texas awaiting a Heart and Kidney transplant. Being separated from Matthew and Elena has been extremely hard as you can imagine. In  St. Andrew's fashion, let's show our "Church Family LOVE & SUPPORT" by sending cards and notes continually as he waits for God's perfect time.
Prayers New Prayer Cards are in the back-just add your requests/thanksgivings and put them in the Prayer Box on the table.  Monday Morning Prayer Warriors would love to pray for you!
Prayer Net  A group of people who pray when they are sent requests/thanksgivings. 
Would you like to join them? 
Please email Elaine at prayer@standrewspickerington.org.
Prayer Team during Worship
There is a "Prayer Warrior" in the Chapel in the back of the church to pray with you during Eucharist.
---
     
Birthday's & Anniversaries This Week:
Sept 25th        Jim Dunn
Sept 26th        Louise Young
Sept 29th       Wanda Bonnes, Jan Fout 
---
Fall Gathering at Procter Center.  Oct. 6-8. 
We have a great fall craft for you! 
Please save clear wine bottles, paper towel and toilet paper tubes and bring them with you to Procter!!  Just one of the fun activities being planned!  Along with Scavenger Hunt, worship services, Fellowship activities!  Registration is Open now!
---

Knitting Ministry
Will meet on Tuesday, Oct. 17th, from 12 to 2 PM. 
---
Episcopal Relief & Development is working with the Episcopal Diocese of Hawai'i in the wake of the recent wildfires on Maui that devastated the town of Lahaina and destroyed the Holy Innocents Episcopal Church building.  Gifts to the Episcopal Relief & Development Hawai'i Emergency Response Fund will support immediate relief efforts as well as emerging
---
Thank you to all who contributed to the special appeal for funds to repair the churches on the Pine Ridge Episcopal Mission in South Dakota.  Mother Michelle Dayton ( who did Seminary fieldwork here at St Andrew's) is now serving as Superintending Presbyter for the Mission and  is also Rector of St Katharine's in Martin.  (9 congregations in all).
Below is a thank you note from Mother Michelle:

---
Special Electing Session for new Bishop will be September 30
IMPORTANT:  Registration closes September 22

 

 

The 149th Convention of the Diocese of Southern Ohio will be held in two sessions this fall–one in September and the other in November. Clergy and elected lay delegates are expected to participate in both sessions.

The first, a Special Electing Session, will meet in person on Saturday, September 30 at Christ Church Cathedral in Cincinnati. On that day, clergy and lay delegates will elect the Tenth Bishop of Southern Ohio.

Registration for the Special Electing Session will close tomorrow, Friday, September 22.

 
Ordination: The ordination of the 10th Bishop of the Diocese of Southern Ohio will take place on February 17 in the Short North Ballrooms of the Greater Columbus Convention Center (GCCC), located at 400 N. High Street in Columbus.
ST. ANDREWS DELEGATES ARE STEVE & SUE KNORR, AND GREG & SHARON STICKNEY.  IF YOU HAVE ANY FEEDBACK ABOUT THE BISHOP CANDIDATES, PLEASE RELAY THEM TO OUR DELEGATES BEFORE ELECTION DAY!
---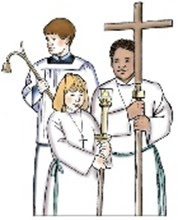 Acolytes of all Ages Needed!
Please see Pastor Sally or Erica Hays if you are interested
Summer is a great time to learn and practice this special Ministry. 
---

Blessing Box Needs:
We currently are in need of items for the Blessing Box.
Easy to eat, cup-o-soups, raman, tuna/chicken salad kits, bags of snacks, nuts, trail mix, etc. Please keep in mind that items in jars or cans are susceptible to both hot and cold weather! 
---

OPEN HOURS
Sun: 10:00 am service followed by coffee hour
M-Th 10am - 3pm
Fri-Sat: Closed